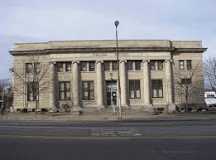 Shelter details
Added Apr 9, 2016 | Last Update Sep 17, 2021
35 E. Huron Steet
Pontiac, MI 48342
Open in Google Maps

(855) 435-7424
Mission Statement
"Grace Centers of Hope is a non-profit Christian organization committed to positively changing the lives of the homeless, addicted and unwanted through the Gospel of Jesus Christ, personal accountability, life skills education and work-related programs. The foundation of change is the local church which encourages residents to become strong in faith and independence while it lovingly promotes a sense of belonging within a community that truly can be called home "
- Source: Grace Centers of Hope website
Description
The Emergency Shelter Program provides immediate assistance to the homeless in their community by making available food, shelter, clothing and other necessities.
This relief program allows up to 40 men, women and Children to stay with them for up to 30 consecutive days.
The primary objective of the Emergency Shelter Program is to offer homeless individuals and families a safe residence while seeking transitional or permanent housing.
When appropriate, emergency shelter guests are encouraged to enter their one-year Life Skills Program.