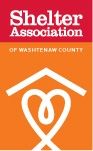 Shelter details
Added May 6, 2016 | Last Update Jun 8, 2022
312 W. Huron Street
Ann Arbor, MI 48103
Open in Google Maps

(734) 662-2829
Description
The Shelter Association of Washtenaw County provides temporary shelter and supportive services in a safe and caring environment, and works with the community to allocate the necessary resources to meet the needs of people experiencing homelessness.
The Shelter Association serves the largest percentage of those experiencing homelessness in Washtenaw County: single adult men and women.
All of their clients share two characteristics: they have no place to live, and they do not currently have the resources to secure and maintain housing.
Many of their clients are unable to obtain housing on their own, because they are facing multiple barriers that impede their ability to do so.
The Shelter Association offers a variety of services and programs to help individuals who are experiencing homelessness.
Services range from providing emergency shelter, referrals for substance abuse treatment, clothing vouchers, transportation, and food to providing health care, housing assistance, and money management.