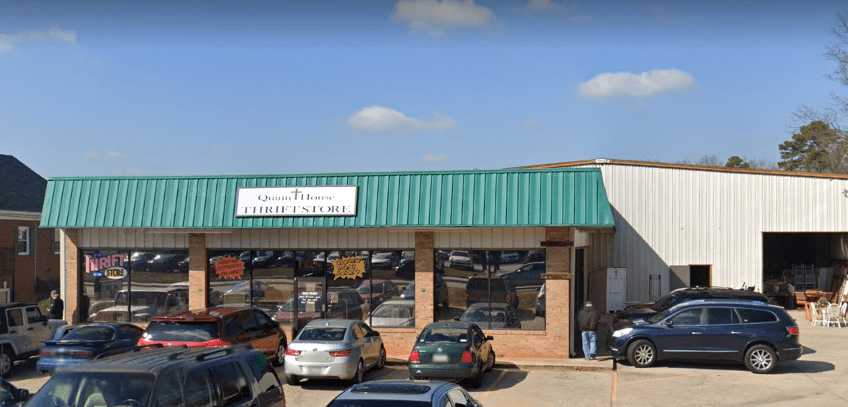 Shelter details
Added Jan 21, 2021 | Last Update May 26, 2022
555 Hurricane Shoals Rd
Lawrenceville, GA 30046
Open in Google Maps

770-962-0470
Description
We provide food, clothing, and other assistance to people in need.
Please call our office at (770) 962-0470 Tuesday - Thursday from 9:00 a.m. to 12:00 p.m. to schedule an appointment.
How many men do you house?
It varies from week to week depending on the time of the year. We can house approximately 24 individuals.
How much does the program cost?
There is never a charge for men and women entering our program. The program is funded entirely by donations.
Located in downtown Lawrenceville, GA for the past 25 years, The Quinn House was founded by John and Carrol Quinn because they recognized a great need in Gwinnett County for assisting individuals and families on all levels. They began by bringing homeless families into their own home and as their outreach grew, so did The Quinn House. Over those 25 years, The Quinn House is now a multi-task, non-profit Outreach Operation that assists hundreds of people in Gwinnett County and in other areas of the State.
Our Residential Program not only provides housing for the homeless, but also offers a 40-day Drug and Alcohol Program to help individuals get back on their feet and re-enter society in a stable and productive way. This Program is free and offers our residents an opportunity to develop a new way of thinking and developing self-esteem, along with decision-making that can lead them to steady employment and independent living again. We have approximately an 80% success rate with our residents for completion of the 40-day Program. At this time there are three homes available for housing of men and women, in addition to women with children in Gwinnett County. While we do not provide housing at our location in South Central Georgia (Washington County), at this time we do provide food, clothing, and furniture to those in need from our thrift store located there.