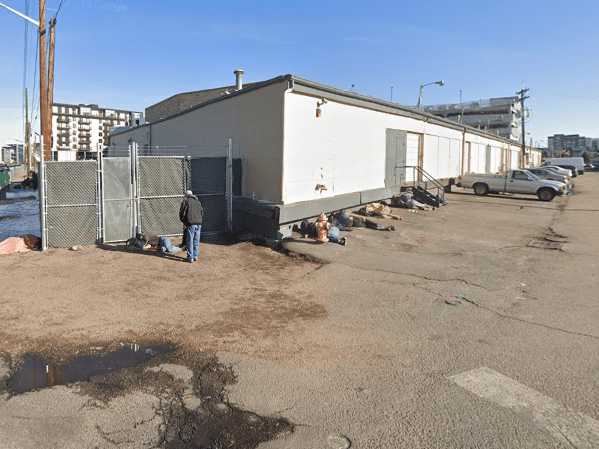 Shelter details
Added Feb 19, 2021 | Last Update Jul 31, 2023
1901 29th St
Denver, CO 80216
Open in Google Maps

(303) 295-3366
Description
Hours of Operation
Office Hours: 8:30 AM - 4:30 PM, Sunday - Saturday
Shelter Hours: 4:30 PM - 8:00 AM, Sunday - Saturday
Description of ServiceProvides overnight shelter, including a clean and sober mat area, for single men over age 18.
Eligibility Guidelines
    Be homeless
    Must abide by house rule
    Be onsite to check in on 4:30 PM
Offers the following services to persons staying at the shelter:
- Dinner and breakfast
- "Stepping Up" program (case management, advocacy)
- Lockers
- Showers
- Kennels for up to 16 dogs
- Bed rental for working individuals (bed rental fees)
- Search and Rescue Line for transportation to shelter
LocationDenver CountyGeographical AreaAdams, Arapahoe, Boulder, Broomfield, Clear Creek, Denver, Douglas, Elbert, Gilpin, Jefferson, and Summit countiesFacility/ADA
AccessYes
Intake ProcedureLine up no earlier than 4:30 p.m. in the courtyard near the Platte River. The first 450 individuals will be allowed to enter until 6 p.m. If an individual can prove they were working, they will be allowed to enter between 6 p.m. and 8 p.m.
Intake RequirementsPhoto ID
Helpful TipsRamp entrance available at the back of the building. Stout Street mobile van is available Tuesday and Thursday evenings to assist with TB cards. There is a sign-up to use shower or laundry services. Once 450 individuals have entered the shelter, additional individuals will be bused to the Peoria overflow facility. Search and Rescue Line will transport men to shelter after 8 p.m. (preferably no calls after 11:30 p.m.). Available year-round, but primarily in extreme weather.
Shelter will accept dogs for homeless individuals staying in any Salvation Army shelter. Dogs must be picked up by 8 a.m. the following morning.
Client InformationGenderMaleEligibilitySingle adult males, age 18 and older. Must obtain a TB card within two weeks of entry. LBGTQ individuals welcome. Gender determined by self-identification. Sobriety is not required. Fees or ChargesTypes of FeesMats Free, Laundry Fees; Bed Rental FeesFee AmountsCall for current feesCapacity Limitations450 Availability
Hours of OperationMonday - Sunday, 3 p.m. - 8 a.m. (Shelter Hours)Specific Hours:8 p.m. - 10:30 p.m. (Showers and towels); 7 p.m. (Dinner) ; 11 p.m. (Lights)