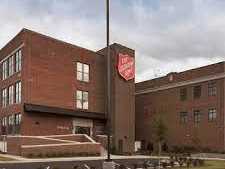 Shelter details
Added Aug 3, 2021 | Last Update Oct 15, 2021
114 14th St SW
Decatur, AL 35601
Open in Google Maps

256-353-2822
Description
The Salvation Army's Center of Hope, located at 114 14th St SW, Decatur, Alabama, provides emergency shelter to men and women, with a total of 10 female beds and 12 male beds. At the Center of Hope, men and women receive meals, bathing facilities, personal care items and a bunk to sleep in.
A security officer is in the shelter during hours of operation.
After a maximum of 5 nights at the shelter, case management assists the client with needed services, or referrals and helps them to become self sufficient and move into a home of their own.
Clients who suffer from an addiction, and want help to overcome it, are referred/taken to the Adult Rehabilitation Center of The Salvation Army in Birmingham for alcohol and drug recovery.
This program helps individuals move from homelessness to self-sufficiency.
The Shelter is open nightly to serve dinner to anyone in need. For Shelter assistance please call 256-353-2822.
Emergency Shelter is available
Center of Hope: Emergency/Transitional Shelter for Men and Women
Location: 114 14th Street SW, Decatur, AL 35601
Hours of Operation: 5:00 pm 7:00 am
Shelter phone: 256-353-4221