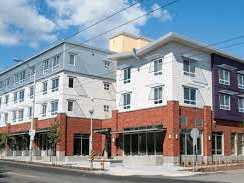 Shelter details
Added Mar 2, 2021 | Last Update Sep 17, 2021
2030 3rd Ave
Seattle, WA 98101
Open in Google Maps

(206)441-3210
Description
(206)441-3210 - 24 hour phone number.
Noel House Programs provides safe, comfortable shelter to a diverse community of homeless women, particularly those most vulnerable. We strive to create an environment of dignity, respect and compassion. We recognize the intrinsic value of each person and honor her unique experience.
Women's Referral Center
(shelter placement)
Daily 6:00 - 9:00 p.m.
For existing clients,
call (206) 770-0156
after 6:00 p.m.
Program Overview
Noel House Enhanced Shelter provides 24-hour access to a semi-private shelter cubicle for up to one year. By having access to a safe place to be around-the-clock, homeless women are better able to address health issues, focus on goals, and build relationships and support systems within the community.
Noel House Permanent Supportive Housing provides housing to 20 chronically homeless women in a community-based, services-rich setting. Breakfast and dinner are provided daily. Intensive onsite case management includes developing individualized goals with a focus on building connection to services.
Womens Referral Center welcomes women experiencing homelessness every night of the year on a walk-in basis. The Womens Referral Center refers 180 women nightly to 15 shelters in partnership with multiple service agencies. Evening meals and hygiene services are also available. The Womens Referral Center operates nightly from 6 p.m. to 9 p.m. It is located at 2030 Third Avenue in Seattle.