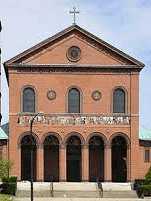 Shelter details
Added Jun 2, 2021 | Last Update Jun 2, 2022
325 Walden Avenue
Buffalo, NY 14211
Open in Google Maps

(716) 894-4476
Description
St. Luke's provides shelter for men and women of all ages. Our homeless shelter houses adult men who would otherwise have nowhere else to stay. There are full time Missionaries who live with the men. We provide the Good Shepherd House for men in Recovery from various addictions. We also provide housing for many families, single mothers and their children and Missionaries and Associates who live among the poor in houses donated by their owners, and renovated by volunteers.
    60 safe beds for 365 days per year
    34 families in 23 houses (transitional housing)
    34 families in transitional housing receiving supplemental food
    Code Blue- 21 nights with an average of 45 men, 2 meals provided for 45 men over 21 nights, sheets and blankets provided leading to a minimum of 40 loads of laundry per night, provided gloves, shoes and coats as needed, about 4,000 cups of coffee per winter season
St. Luke's provides two meals a day, Monday through Friday & brunch on Saturday for the public. It is not unusual for us to feed 200 people for lunch served at noon and around 300 at our dinner meal, served at 4PM.
    Sandwich ministry Good Shepherd: from 8am- 11pm, individuals and families come to Good Shepherd and receive 1 or 2 sandwiches with something else like a piece of fruit and a drink.  Approximately 30 per day 6 days a week =  9,360 meals per year
    Soup Kitchen 2 meals a day averaging 300 meals daily, 6 days a week= 93,600 meals per year
    Thanksgiving Food Bags 3 bags of food per family 2,700 families = 8,100 bags of food
    Christmas Food Bags 3 bags of food per family 2,400 families = 7,200 bags of food
    Weekly food bags 250 families per week X 52 weeks = 13,000 food bags per year
    60 men housed on the property 2 meals a day 7 days a week x 12 months = 10,080 meals per year
Clothing the Naked
St. Luke's Mall, located in the first floor of the former school allows anyone to come in and receive clothing, small appliances, household wares all of which have been donated by generous and loving people. We have a men's room, a women's room, a children's room and people can come in and "shop" for the clothes they like and those that will fit them. Even this little difference helps to make the people feel special and loved. People can take one bag of clothes per day absolutely free.
    Mission Mall supplying free clothing and house goods weekly 200 families per week = 10,400 families served per year
    Baby Room weekly giveaway of  diapers, wipes, ointments, formula, baby clothes about 100 families per week = 5,200 families* served *(can have more than 1 child in family)
Lazarus HouseThe Lazarus House provides a structured home for men who are in recovery from alcohol or other addictions. The environment of the residence allows the men to support one another and to seek God's will for their lives. The men of Lazarus House help with the work of the Mission in many different ways and in helping others find that they too are served and can become the men God calls them to be.