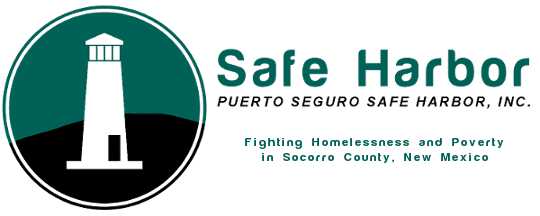 Shelter details
Added Apr 11, 2016 | Last Update Jun 7, 2022
519 North California Steet
Socorro, NM 87801
Open in Google Maps

(575) 835-2895
Mission Statement
"Puerto Seguro Safe Harbor, Inc. (PSI) is a non profit 501(c)(3) corporation chartered for the purpose of offering a ?safe place? where clients may use shower facilities, acquire clothing and food, and be connected with other service agencies that can provide help with housing, employment, education, rehabilitation, counseling, medical, and other needs."
- Source: Housing, Meals, Addiction Rehab, and Services for the Homeless at PSI Safe Harbor website
Description
Puerto seguro safe harbor, inc. (PSI) is a nonprofit corporation chartered for the purpose of offering a safe place where clients may use shower facilities, acquire clothing and food, and be connected with other service agencies that can provide help with housing, employment, education, rehabilitation, counseling, medical, and other needs.
PSI does not charge for any service and is publicly supported.
PSI's clients include men, women, and children of all ages including many veterans and Native Americans.
While PSI is a daytime facility only, under some emergency conditions and when funds are available, clients may receive temporary lodging at a local motel.
PSI Safe Harbor seeks to meet the immediate needs of our clients as well as provide long-term assistance in order to remedy the client's individual needs.
PSI Safe Harbor works with other local organizations and businesses to best serve the needs of our clients.