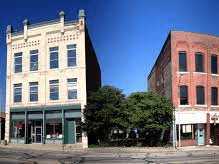 Shelter details
Added Aug 14, 2021 | Last Update Mar 21, 2023
625 Main Street
Anderson, IN 46015
Open in Google Maps

(765)649-4264
Description
The Christian Center's Rescue Shelter program maintains a 24/7  "no turn away" policy. Immediate physical needs are met, as guests sign up for beds, eat three meals a day, take showers and get haircuts and pick out fresh clothes. Men can stay up to 30 days, during which time Christian Center staff help them to evaluate their next best step, which may include enrollment in our Men's Program or different recovery programs with other service providers in the area.
Everyone comes into the Christian Center through the emergency shelter program.
Men's Program
The healing begins for hundreds of men when they finally have a safe, caring environment in which to spend crucial daylight hours, and a warm bed to sleep in at night when they've had no other place to call home. Without a permanent address, those trying to rebuild their lives may find it difficult to take practical steps towards self-sufficiency, such as scheduling job interviews, applying for aid, saving money, receiving mail and phone calls, and much more. Participation in the Men's Program establishes residency and once again puts these things within reach.
A member of the Men's Program working in the retail storage area of The Christian Center in AndersonMore importantly, because The Christian Center believes that a stable life requires making peace with God, yourself, and others, the Men's Program is purposefully designed to promote spiritual and emotional wholeness. This means that our first priority is to help men establish a Biblical foundation for making healthy choices, which includes maintaining an addiction-free life.
While learning basic life management skills, men have the opportunity to develop a personal relationship with Jesus Christ through Bible study and chapel services.
Our comprehensive programming works through community partnership and volunteers who provide resources for substance abuse counseling and education,  work therapy, group Bible studies, chapel services, spiritual guidance, anger management classes, financial education, basic interpersonal skills training, and more.
Because every life story is unique, Men's Program staff and volunteers work together with each person to set individualized goals over the course of an 18-24 month program. These goals are set to assist each man in his healing journey to wholeness.