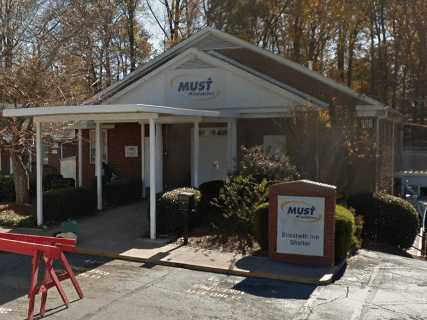 Shelter details
Added Jun 21, 2021 | Last Update Jan 24, 2023
55 Elizabeth Church Road
Marietta, GA 30060
Open in Google Maps

(770) 427-9862
Description
Hours:
Open seven days a week
24 hours a day
365 days a year
Campus locked from 11p.m. - 6:00a.m.
Intake hours:
Monday - Friday 10:00a.m. - 2:00p.m.
MUST Ministries is a non-profit, faith-based organization helping people in their community break the cycle of poverty and homelessness.
MUST provides basic necessities such as food, clothes and housing, free of charge.
Elizabeth Inn Homeless Shelter- The Elizabeth Inn Shelter provides a safe sanctuary of rest for those who find themselves in distress. Open to men, women, families and children, the 72-bed Elizabeth Inn provides three meals a day and extensive support services including case management, education and employment, computer lab, recovery meeting, referrals and assessments.
Run by a small staff and an army of volunteers, the facility serves clients by providing two different programs depending on client needs and ability to live by house rules. All Elizabeth Inn guests are provided services to meet both immediate needs (food, clothing, shelter) and long-term needs (employment assistance, support groups, etc.). Intake is conducted on a "first come, first served" basis. You must have a photo ID for entry. Also on the Elizabeth Inn Campus is the Loaves and Fishes Community Kitchen. Operating 365 days a year, the Loaves and Fishes Kitchen serves nearly 80,000 meals a year, most of which are purchased and prepared by civic, church, corporate and family volunteer groups.